GRILLED CILANTRO LIME CHICKEN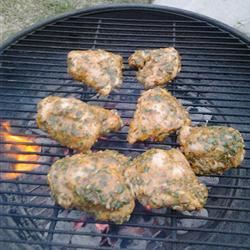 Ingredients:
2 large limes, zested and juiced
3 green onions, sliced
3 tablespoons olive oil, or more to taste
3 tablespoons chopped fresh cilantro, or more to taste
2 tablespoons salt-free seasoning blend (such as Mrs. Dash® Fiesta Lime)
3 cloves garlic, minced
1 teaspoon ground coriander
1 teaspoon red pepper flakes
1 teaspoon ground cumin
¼ teaspoon cayenne pepper
salt and ground black pepper to taste
6 skinless chicken thighs
Steps:
Mix lime zest, lime juice, green onions, olive oil, cilantro, seasoning blend, garlic, coriander, red pepper flakes, cumin, cayenne pepper, salt, and pepper in a bowl.
Place chicken in a resealable plastic bag or a bowl with a lid. Pour the marinade over the chicken and cover evenly. Seal the bag or cover the bowl.
Place in the refrigerator and marinate for 4 to 6 hours.
Remove chicken from the refrigerator and allow to come to room temperature, about 30 minutes. Meanwhile, preheat an outdoor grill for medium-high heat and lightly oil the grate.
Remove chicken from the marinade and shake off excess. Discard the remaining marinade.
Cook chicken on the preheated grill, turning occasionally, until an instant-read thermometer inserted into the center reads at least 165 degrees F (74 degrees C), about 20 minutes. Let rest for 5 minutes before serving.
Nutrition Facts : Calories 235.3 calories, Carbohydrate 5.4 g, Cholesterol 70.9 mg, Fat 15.2 g, Fiber 1.6 g, Protein 20 g, SaturatedFat 3.2 g, Sodium 94.9 mg, Sugar 0.8 g
Recently Recipes
More about "grilled cilantro lime chicken food"
Related Search