CHEF JOHN'S CREAMY MUSHROOM PASTA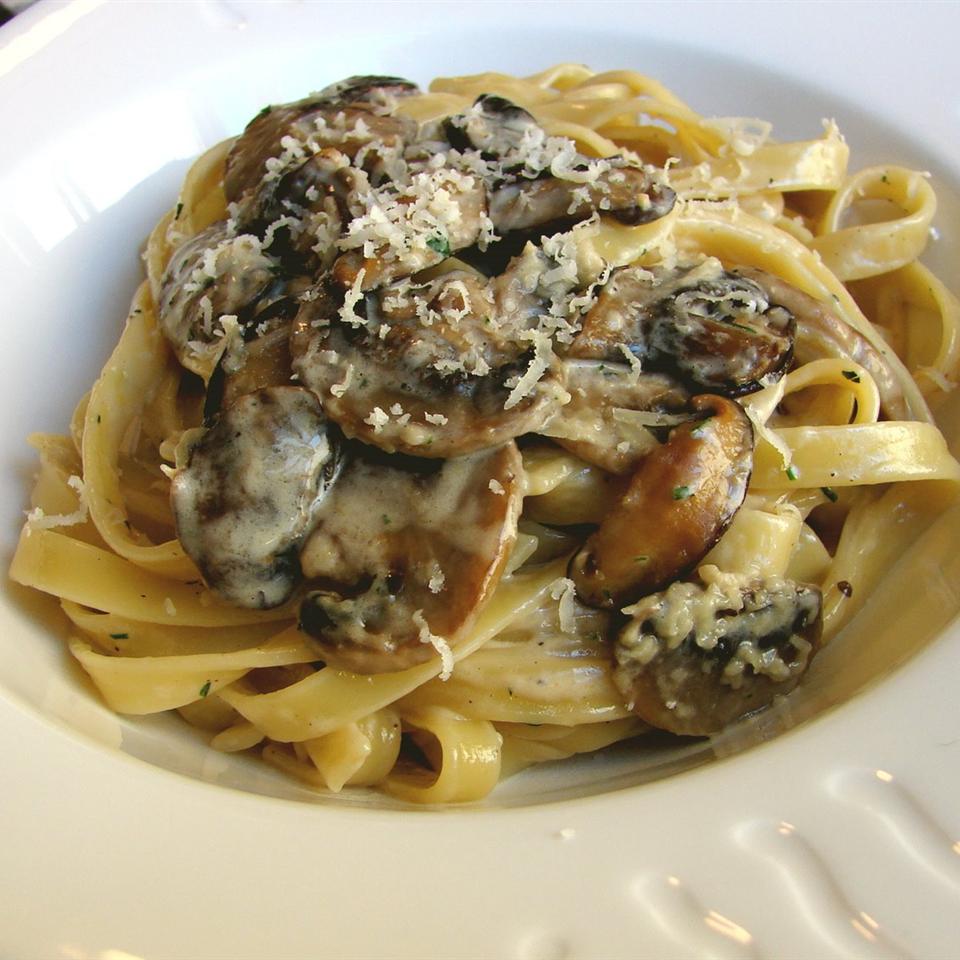 A beautiful, aromatic, creamy mushroom sauce coats hot cooked fettuccine pasta in this quick dish. You can use any kind of pasta you like.
Provided by Chef John
Categories Main Dish Recipes Pasta
Time 45m
Yield 6
Number Of Ingredients 13
Ingredients:
2 tablespoons olive oil
¾ pound fresh white mushrooms, sliced
¼ pound fresh shiitake mushrooms, stemmed and sliced
salt and ground black pepper to taste
2 cloves garlic, minced
2 fluid ounces sherry
1 cup chicken stock
1 cup heavy whipping cream
8 ounces fettuccine pasta
1 ½ teaspoons chopped fresh thyme
1 ½ teaspoons chopped fresh chives
1 ½ teaspoons chopped fresh tarragon
9 tablespoons freshly shredded Parmigiano-Reggiano cheese, divided
Steps:
Heat olive oil in a large skillet over medium heat. Cook and stir white and shiitake mushrooms in the hot oil with a pinch of salt until until the juice from the mushrooms evaporates and the mushrooms are browned, about 10 minutes.
Stir garlic into mushrooms and cook for 1 minute; pour in sherry and cook until wine is nearly evaporated. Mix chicken stock into mushroom mixture; season with salt and black pepper. Bring to a simmer, reduce heat, and cook until slightly thickened, about 5 minutes.
Pour cream into mushroom mixture, stir to combine, and simmer for 5 minutes. Mixture will foam and thicken slightly.
Fill a large pot with lightly salted water and bring to a rolling boil. Stir in the fettuccine, bring back to a boil, and cook pasta over medium heat until cooked through but still firm to the bite, about 8 minutes. Drain but do not rinse pasta; transfer to a large serving bowl and keep warm.
Stir thyme, chives, and tarragon into mushroom sauce and turn off heat; mix 1/2 cup Parmigiano-Reggiano cheese into sauce until cheese has melted.
Pour all the mushroom sauce and half the mushrooms over pasta, reserving about half the mushrooms in the skillet. Toss pasta in sauce until coated; top with remaining mushrooms and remaining 1 tablespoon Parmigiano-Reggiano cheese for garnish.
Nutrition Facts : Calories 375.3 calories, Carbohydrate 33.6 g, Cholesterol 60.6 mg, Fat 22.4 g, Fiber 2.1 g, Protein 11.1 g, SaturatedFat 11.3 g, Sodium 371.3 mg, Sugar 2.7 g
Recently Recipes
More about "chef johns creamy mushroom pasta food"
Related Search