My coconut bars are an American version of a Filipino coconut cake called bibingka. These are a crispier, sweeter take on the Christmas tradition I grew up with. —Denise Nyland, Panama City, Florida
Provided by Taste of Home
Categories Desserts
Time 1h
Yield 3 dozen.
Number Of Ingredients 13
Ingredients:
2 cups all-purpose flour
1 cup packed brown sugar
1/2 teaspoon salt
1 cup butter, melted
FILLING:
3 large eggs
1 can (14 ounces) sweetened condensed milk
1/2 cup all-purpose flour
1/4 cup packed brown sugar
1/4 cup butter, melted
3 teaspoons vanilla extract
1/2 teaspoon salt
4 cups sweetened shredded coconut, divided
Steps:
Preheat oven to 350°. Line a 13x9-in. baking pan with parchment, letting ends extend up sides., In a large bowl, mix flour, brown sugar and salt; stir in 1 cup melted butter. Press onto bottom of prepared pan. Bake until light brown, 12-15 minutes. Cool 10 minutes on a wire rack. Reduce oven setting to 325°., In a large bowl, whisk the first 7 filling ingredients until blended; stir in 3 cups coconut. Pour over crust; sprinkle with remaining coconut. Bake until light golden brown, 25-30 minutes. Cool in pan on a wire rack. Lifting with parchment, remove from pan. Cut into bars.
Nutrition Facts : Calories 211 calories, Fat 12g fat (8g saturated fat), Cholesterol 36mg cholesterol, Sodium 166mg sodium, Carbohydrate 25g carbohydrate (18g sugars, Fiber 1g fiber), Protein 3g protein.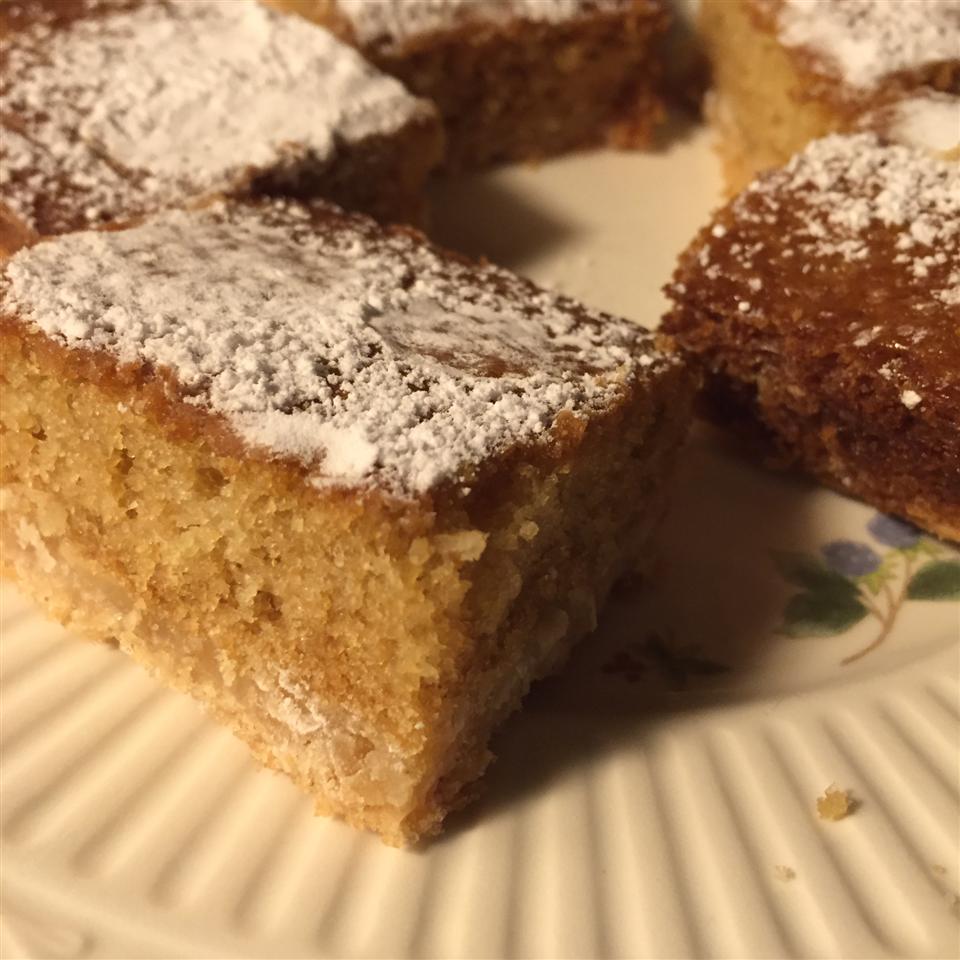 Ingredients:
1 ¼ cups white sugar
¾ cup packed brown sugar
2 cups all-purpose flour
½ cup butter, softened
½ cup shredded coconut
½ cup chopped walnuts
1 teaspoon baking soda
½ teaspoon salt
1 teaspoon ground cinnamon
1 egg
1 cup buttermilk
1 teaspoon vanilla extract
1 cup confectioners' sugar
1 tablespoon milk
Steps:
Preheat the oven to 350 degrees F (175 degrees C). Grease a 9x13 inch pan.
In a medium bowl, combine the sugar, brown sugar, flour, and butter; blend with a pastry blender until the mixture is in coarse crumbs. Remove 2 cups of the mixture to another bowl, and reserve the rest.
Stir the coconut and walnuts into the 2 cups of the sugar mixture. Pat firmly into the greased pan. Stir the baking soda, salt, and cinnamon into the reserved mixture. Then mix in the egg, buttermilk and vanilla until well blended. Spread this over the crust in the pan.
Bake for 35 to 45 minutes in the preheated oven, or until firm. Allow to cool. Make a glaze using confectioners' sugar and enough of the milk to give it a drizzling consistency. Drizzle over bars before cutting into squares.
Nutrition Facts : Calories 189.7 calories, Carbohydrate 32.1 g, Cholesterol 18.4 mg, Fat 6.3 g, Fiber 0.6 g, Protein 2.2 g, SaturatedFat 3.1 g, Sodium 148.7 mg, Sugar 23.4 g
Recently Recipes
More about "buttery coconut bars food"
Related Search