If you wish you can pre steam the ribs in the oven for 30 minutes and cut down the BBQ time. Put the ribs on a cookie sheet add 1 cup of beef broth, seal with tin foil and put in a 325°F oven. Thee BBQ time will now be about 30 minutes and I find the ribs are more tender. Adjust the seasoning to your liking. Serve with salads and baked on the BBQ potatoes
Provided by Bergy
Categories Vegetable
Time 1h10m
Yield 8-10 serving(s)
Number Of Ingredients 9
Ingredients:
7 lbs beef back ribs
1 (15 ounce) can tomato sauce
1 (12 ounce) can lager beer
4 garlic cloves, minced
1 teaspoon sugar
2 tablespoons hot sauce (I use Peri Peri)
1/2 teaspoon dried basil
salt
pepper
Steps:
Combine all the ingredients (except ribs) in a sauce pan, bring to a boil and simmer 10 minutes, cool a bit.
Place the slabs of ribs in a large plastic bag and pour in the sauce, turn to coat the ribs and seal the bag.
Marinate in the fridge for at least an hour.
Remove ribs from the marinade and reserve the marinade.
Place ribs over medium heat and grill for 50-60 minutes turning the ribs and basting with the marinade during the last 20 minutes of cooking.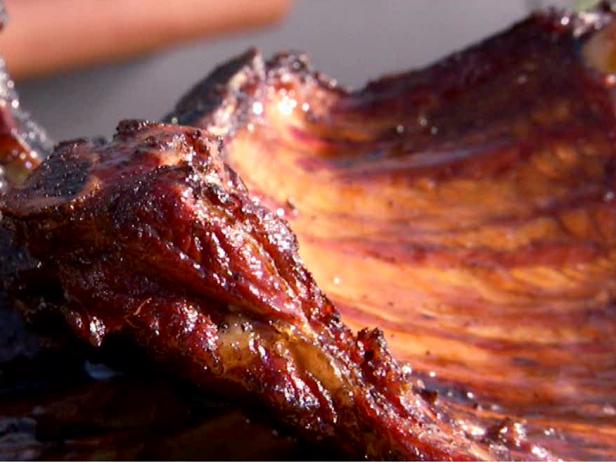 Provided by Patrick and Gina Neely : Food Network
Categories main-dish
Time 11h20m
Yield 4 to 6 servings
Number Of Ingredients 15
Ingredients:
2 slabs BBQ beef ribs
2 tablespoons kosher salt
1 1/2 tablespoons light brown sugar
1 tablespoon paprika
1 tablespoon ancho chile powder
1 tablespoon ground cumin
2 teaspoons freshly ground black pepper
1/2 cup pure maple syrup
1/4 cup apple juice
3 tablespoons light brown sugar
3 tablespoons apple cider vinegar
3 tablespoons Dijon mustard
1 teaspoon ancho chile powder
Pinch of cayenne
Kosher salt and freshly ground black pepper
Steps:
Prepare the grill for indirect heat using hickory and charcoal and heat to 250 degrees F.
Place the ribs on a clean cutting board and pull off the membrane, the thin fatty skin that lines the underside of the ribs. Trim the ribs of excess fat and meat.
For the rub: Whisk together 2 tablespoons salt, brown sugar, paprika, chile powder, cumin and pepper. Rub the beef ribs with the seasoning and place on a sheet tray, cover with plastic wrap, and if time, let marinate in the refrigerator for 8 hours or overnight.
For the glaze: Add the maple syrup, apple juice, brown sugar, vinegar, mustard, chile powder, cayenne, salt and pepper to a medium saucepan and bring to a simmer. Cook until syrupy, about 8 minutes, stirring with a wooden spoon on occasion.
Remove the ribs from the refrigerator. Place the ribs meatier-side-down on the grill away from the coals. Cook the beef 3 hours, adding more coals as needed. Turn and cook until the ribs "bend" and the meat easily separates from the bone using a fork, about 45 minutes more. Brush on the glaze to the ribs and cook for another 5 minutes. Remove and slice into individual ribs.
Recently Recipes
More about "bbq beef ribs food"
Related Search